Entrust your care to Dr. Johansen
Excellence In Podiatric Care
Hammer Toes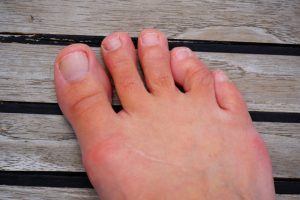 What is hammer toe?
Hammer toe occurs when an abnormal bend in the middle joint of one of your toes forms. Although hammer toe can happen in any of your toes, they usually develop in the second, third, or fourth toe.
When hammer toes are first forming, they are generally flexible and easily corrected with exercises or stretches for the toe. But if left untreated, they will likely become fixed and require surgery.
Hammer toe usually develops over time and may be caused by arthritis or wearing shoes that are too tight in the toe box, like high heels. That's why there is a high percentage of women who develop this deformity. In most cases, a hammer toe is treatable when caught early.
What causes hammer toe?
Hammer toe results from continual pressure on your toe tendons and joints due to muscle imbalance.
Since your muscles work together to straighten and bend the toes, when the toe is bent in a single position for an extended time, the muscles and joints tighten and lose their ability to stretch. And when the top part of your toe is continually forced in a downward position, it becomes difficult to move your toe, even after taking your shoes off.
As mentioned above, the most common cause of hammer toe is wearing short, narrow shoes that are too tight. These types of shoes cause the toe to bend upward. When your toes are bent like this repeatedly for long periods, the muscles and tendons in your toe tighten and become shorter, making one or more of your toes stay in the bent position.
People born with long toes, children who wear shoes they have outgrown, and people who wear very narrow or high-heeled shoes are also more likely to develop a hammer toe. Sometimes, pressure from a bunion or rheumatoid arthritis also can increase your risk of developing this deformity.
What are the symptoms of hammer toe?
One of the most common symptoms of a hammer toe is a bent toe upward at the middle joint. Although you may be able to straighten out your toe at first, it will become painful and more challenging to do so over time.
Hammer toes are extremely painful, especially when moving the toe or wearing shoes. Unless caused by trauma, hammer toe symptoms start slowly. Initially, you'll notice your toe begin to bend downward. As your joint becomes stiffer, you'll find it difficult to move your toe without pain. It's also important to note that you may also find shoes no longer fit comfortably in the toe box and begin to develop calluses or blisters. However, if you've developed a hammer toe due to injury, your toe may instantly appear bent at the joint.
A hammer toe will cause discomfort or even acute pain when walking, moving, or stretching the affected toe. If you notice that your toe is bending downward, you may want to get checked by a podiatrist.
Here are some of the most common symptoms of hammer toe:
• Your toe is angling upward at the joint
• Corns formed at the top of the affected toe
• Toe pain when wearing footwear
• Bending, swelling, and redness of the affected toe
• Restricted motion of the toe
• Your toe is unable to lie flat
• Foot pain at the ball of the foot under the affected toe
Can hammer toe be treated?
Non-invasive treatment starts with new shoes that have soft, roomy toe boxes. You'll want to stop wearing tight, narrow, or high-heeled shoes. If you can, find a shoe with a deep toe box made for hammer toe. Or, have your local shoe repair shop stretch the toe box to provide room for the affected toe.
Your doctor may also prescribe toe exercises you can do at home to stretch and strengthen the muscles, like stretching your toes manually or using your toes to pick things up off the floor. You may also receive a recommendation to use over-the-counter remedies to ease symptoms.
If conventional measures are unhelpful, surgery is an option and is typically performed with outpatient treatment. For up to 4 to 6 weeks after surgery, you may experience stiffness, swelling, and redness in your toe. Even though you can put pressure on your foot immediately after surgery, you should limit your movement while the toe heals. And you'll want to be sure to elevate your foot as much as possible to help speed up the healing and reduce the pain. After you've healed, your toe may be somewhat longer or shorter than before surgery.
If you have questions about or think you may have hammer toe, don't hesitate to get in touch with us to schedule an evaluation.
We specialize in the following